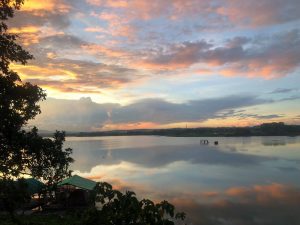 It's actually funny that my mind just wanders off to infinite possibilities, letting me randomly ask questions and wonder, like, "I wonder how the baby boomers fared during their time when there was war?" My mind would drift off imagining that time, and thinking how hard it was for them. Their future were filled with so much uncertainty, and tomorrow was not guaranteed.
I would come back to my senses and just sigh in gratitude that I live in a world where everything is okay.
But then, the "is", like a switch, suddenly turned into "was." It was okay.
Now, I don't know.
Here I am, finally writing again to let my thoughts just swim with the current of this tide that we are now in.
I can be totally honest and say that uncertainty is not my favorite word. I love being prepared. I love to-do lists I love to-do lists, and that's not even enough for me. I love back-up plans.
I didn't know that this Covid virus was going to take its toll in our country that fast. Really. I didn't see it coming. So when they announced the Community Quarantine, and progressed to Enhanced Community Quarantine, it was absolutely a balance-breaker for me. I suddenly was faced with a challenge to make very important decisions in such a critical time. My mind was haunted with endless what-ifs, and my brain was exhausted from thinking for our business and our family. I was a mess, even if I didn't show it. Sometimes, you need to take one for the team and lead.
But then God, in His lovingkindness, guided me through all of that, and led me to hide in Him. No words. Just being bare with Him and letting Him see my heart for what it was. I sought Him in the silence, and I heard birds chirp. That made me break down and cry. Signs of life. He broke down my self-made defenses, and invited me to just be me with Him. I need not dress up and tell Him, "Look, Dad, I'm totally not affected with this!", but He wanted me to admit my weakness and hold me close in His embrace. I need not be that perfect child. That was tiring. He just wanted me to rest in Him.
During those moments, He was just there for me. His healing Presence washed over me, just loved on me, and we lingered for a while. Sometimes love needed no words. It was so unconditional that He didn't look at my faults or failings. He just loved me for who I was, and He just kept on giving His generous love to me over, and over again. His grip was gentle but strong. He wasn't letting go. That gave me so much strength, that clearly came from His Love. Even if I missed my dad during this time as he was the strongest of us, and carried us for most of our lives, God is my Dad who can do immeasurably more, and can hold us all together in safety and perfect love.
Spending more time with Him led me to loosen my fist, and slowly let go. I surrendered all my fears to Him, and He replaced it with unspeakable peace and love. It was the beginning of rest, as I placed my trust in His Love. These days are still marked by uncertainty, but my hope remains secure with a God like Him who loves us and never lets go.
This season has taught me to be grateful for the things that I was able to experience in the past, and knowing that every moment is a gift from God. I find myself browsing through photos on my phone, and just smile at those beautiful memories with my family and friends. I've always been looking forward ( like booking trips ahead even before we're done with one! )  that sometimes, I think, I never have fully enjoyed the now's that they quickly become archived in my heart. There is grace in this time to fully enjoy and cherish them for the beautiful memories they were.
This photo that I share today was one of my favorite sunrises with the Lord. We started when it was still dark.  I was just there, sitting still where I am, as I saw Him just delight and be happily playing with colors in the sky. I saw the shade of blues multiply before my very eyes – from deep, deep blue, slowly warming up until it blends with beautiful red, and orange. So much wonder filled my heart, like a little child, as I beheld His Masterpiece. My heart just felt that it was truly home.
In Him was life, and that life was the light of men. The Light shines in the darkness and the darkness has not overcome it. ( John 1:4-5)
Now, I still share beautiful moments with Him, albeit without that majestic view. I am reminded that it's Him that matters above all. May I be in the most beautiful scenery or just confined within the four walls of my small room, it is His Presence that brings heaven into my heart.
Thank You, Lord, that our future is not based on what will happen next. Our future is based on You, our perfect God who loves us unconditionally and who promises to see us through. May we come out of this with a faith more tested, purified with fire, and a deeper relationship with You. Let Your healing Love just overtake our anxious hearts. Your heart is too beautiful to miss out, Lord. We hope not to miss Your love this season, and always.